May 3, 2023
Luana's story: Moving from Peru to the UK to study Architecture in Chelmsford with ARU College
Last week, we had the opportunity to speak with Luana, a second year Architecture student on our Chelmsford campus who studied a foundation year with us. Luana tells us about her life as a student in Chelmsford, her plans after graduation, and what she gets up to in her free time!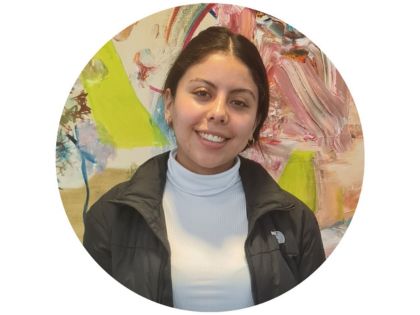 Hi Luana, please introduce yourself and tell us what you're studying!
"Hello, my name is Luana, and I am a second-year student at ARU Chelmsford studying BSc (Hons) Architecture (with Foundation Year)."
Why did you choose ARU College and Anglia Ruskin University?
"I chose ARU and ARU College because I really liked how the curriculum was for my degree, architecture. They channel you to not only explore different types of architecture but to explore yourself as well (what you like and what your style is) – and that was very interesting to me! I chose Chelmsford because it's quite near to London and can connect to pretty much everything in the UK".
What has been your favourite thing about your studies so far?
"My favourite thing about my studies so far has been meeting people from different cultures and finding out that I have more in common with different people than I thought I did. Also, in our second year we did a trip to Barcelona which was a one-of-a-kind experience".
How did your time with ARU College prepare you for the rest of your degree?
"My time at ARU College was really helpful for preparing me for university as I didn't have any basis of architecture so it has helped me keep up with my assignments, with time management and to refresh myself a little bit about how to write essays. It also helped me to explore lots of creative possibilities that I could take to be prepared for the actual degree".
What's your favourite thing about living in Chelmsford and do you live on campus?
"I live close to the train station which is in between the city centre and university, which is quite convenient. I really like living in Chelmsford as it's a familiar kind of city. In my case I like peace and quiet and there's loads of nature, I love nature so sometimes I go for walks along the river Chelmer when I'm stressed – having the river close is such a plus!"
Where is your favourite place to study on campus?
"The library is definitely my favourite place to study on campus as I feel more focused which pushes me to do more and procrastinate less!"
What is the biggest contrast from living in Peru to the UK?
"That's a hard one! I would say in my case, independency. I've become more independent, like waking up in the morning to go grocery shopping. My rhythm of life has changed so much! Also, the food and the weather (especially coming from a tropical country). My body works different, and I needed to adapt to the lifestyle.
I love Indian, Greek, and Turkish food. I never had them before as they're not as popular in Peru as they are here, and I love Indian Takeaway!"
What are your plans for after graduation?
"My plan for after graduation is to look for a placement, maybe close to Chelmsford maybe London, so I can still commute from Chelmsford. Hopefully after that I can look for a masters!"
What do you like to do in your free time?
"In my free time I like to play volleyball and I am part of the volleyball society at ARU. I also like to relax and go to the gym. It's good therapy from taking out all of the stress from uni work.
I also work part time. At the start that was quite challenging, I'd never had a job before I moved to the UK but I'm lucky they're flexible with schedules. For example, if I have a deadline, they will tell me don't worry, take your time and they will help me a lot."
Have you had the chance to do any travelling since you've lived in the UK?
"Yes, I've travelled loads. The trip to Barcelona was amazing with the people from my course. Then, when my parents came, we went to Edinburgh, and we went to Italy as well – Venice and Milan – so nice! I've never been to those places before. I think that's the good thing about being in Europe, everything is so relatively cheap than travelling from Peru to any of these countries. So, it gives you the opportunity to discover more and you will meet people that also have a hunger for travelling."
Do you have any advice for international students looking to study in the UK?
"I would advise them to take the risk. I know it's a big step going out of your comfort zone, especially if you live far like Latin America, and to leave your family and friends. But it will help you so much to get to know yourself, grow as a person and will show you all the possibilities you can have. Challenge yourself and see how much you can achieve!"
Luana Bardales Versace
2nd year student from Peru
BSc (Hons) Architecture (with Foundation Year)